Changing Lives, One Person and One Smile at a Time
I feel truly blessed to be an orthodontist! Working with all ages, from children through teens, parents, and even grandparents, and helping each person develop a proper bite and beautiful smile, keeps me passionate about my career.
I am a third-generation dentist and the sixth dentist in the family. My dad is a now-retired orthodontist and a huge role model for me. Growing up, I shadowed him at work and saw the excitement and fulfillment he found in helping others. Witnessing his happiness over his career inspired my interest and, as I grew up, I became passionate about it too!
I often think about the amount of confidence orthodontic treatment gives people. Once the braces come off, and they see all they have accomplished, each person leaves the office feeling secure in their smile — and that confidence affects them in every part of their life, for the rest of their life!
Education
University of Wisconsin, La Crosse – Biomedical Science and Music Performance
Marquette University – Doctorate of Dental Surgery (DDS)
Marquette University – Orthodontic Specialty Certificate and Master of Science (MS)
Although I'm a relatively recent graduate, I stay very active in continuing education (CE) courses. Moving teeth with Invisalign® and other clear aligners is a passion of mine, and I've taken a ton of advanced Invisalign® courses. I also focus my CE on courses that involve the self-ligating bracket system, as well as other advanced technologies and techniques.
Taking CE courses, and having a patient-centered practice, allows me to offer numerous, high-quality treatment options with confidence. There are many different ways to straighten teeth and correct bites; what's best for one patient may not be ideal for another, depending on the complexity of the situation and each person's preferences.
Professional Memberships
Sheboygan County Dental Society
American Association of Orthodontists
American Dental Association
Wisconsin Society of Orthodontists
Wisconsin Dental Association
Beyond the Office
I grew up in Washington state and moved to Wausau, Wisconsin right before high school. I now live here in Sheboygan and am proud to be a full-time resident in the city where I practice. When I'm not working, I enjoy playing tennis, working out, attempting to play golf and guitar, and listening to live music. I also love to travel, and was fortunate to go to Europe for the first time after I completed my orthodontic residency. And, of course, I enjoy watching sports: Go Pack, Go!!
In the Community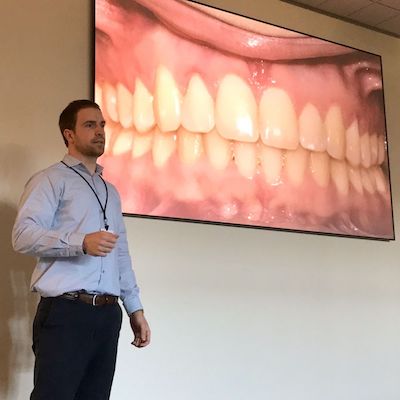 Sheboygan County is a wonderful area and I feel lucky to live and practice here. I am committed to supporting others and making our community healthier and stronger. In addition to belonging to the Sheboygan County Chamber of Commerce and the Young Professional Group, I contribute to the Making Spirits Bright holiday lights project each year.
I was a member of Kids from Wisconsin in the 2010 and 2011 seasons and will continue to support that group each year when their show comes to Sheboygan county. Check them out when they come to town if you've never seen a show, you won't be disappointed!
I also love teaching people about oral health and the positive changes that result from orthodontic treatment. I've given talks at Acuity Insurance and to dentists and other oral healthcare professionals at the Sheboygan County Dental Society meetings.